An awesome day in… Berlin: Neukölln & Kreuzberg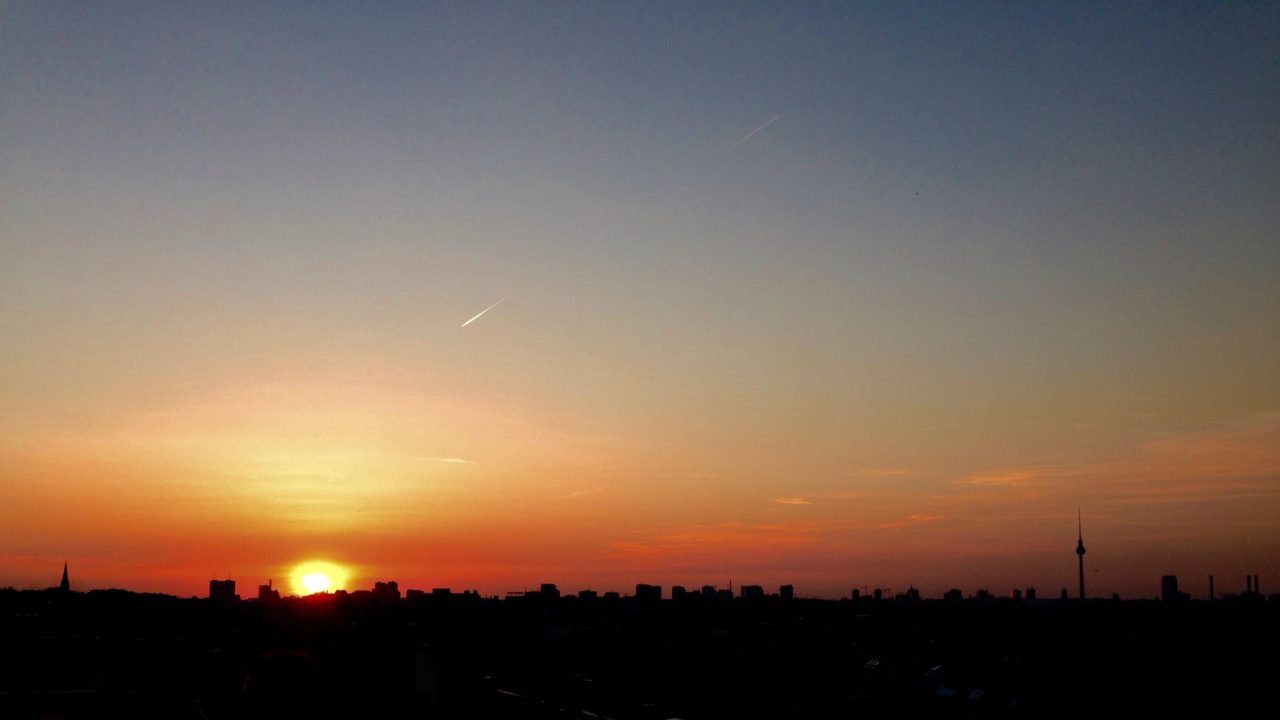 Berlin has many beautiful days to offer that are far away from the usual tourist marathon. Since I have made Neukölln and Kreuzberg the center of my life for some years now, here is one of my favourite days in these districts.
Whatever the time of day, you will always find a place for breakfast in Berlin. My absolute favorite however serves it "only" until 3pm. But that should be enough, we have a lot to explore today. Hallmann & Klee at the Böhmischer Platz is your first stop. You can sit and enjoy the sun at the pretty square while enjoying the deliciously prepared delicacies. Everything that is being served here is regional, organic and homemade with a lot of love. Especially fantastic here is the bread, which come with the tasty breakfast boards, but also the pancakes are like a painting.
From here it is best to stroll to Richardplatz, the old centre of Rixdorf, which was swallowed up by ever growing Berlin one day. Suddenly the houses are at most two stories high, the streets are still cobbled and you can find old blacksmiths and hidden gardens. It doesn't really feel like Berlin here at all. Especially the Comeniusgarten is a beautiful place to digest the fantastic breakfast in the sun and to observe the different people who have already discovered this quiet place for themselves. To enter the garden, simply press the bell button to the right of the gate and it will open directly into the orchard.
Back on Richardplatz you now cross the noisy Karl-Marx-Straße and walk into Thomasstraße, either to reach the Tempelhofer Feld directly or to make a short detour to the Körnerpark. The best coffee is here at Nini e Pettirosso. With that in your hand, this beautiful park, which looks a bit out of place in this city, is best enjoyed. For a short moment, one forgets to be in Berlin with all the meticulously arranged floral splendour and thinks: somehow this rather feels like Munich.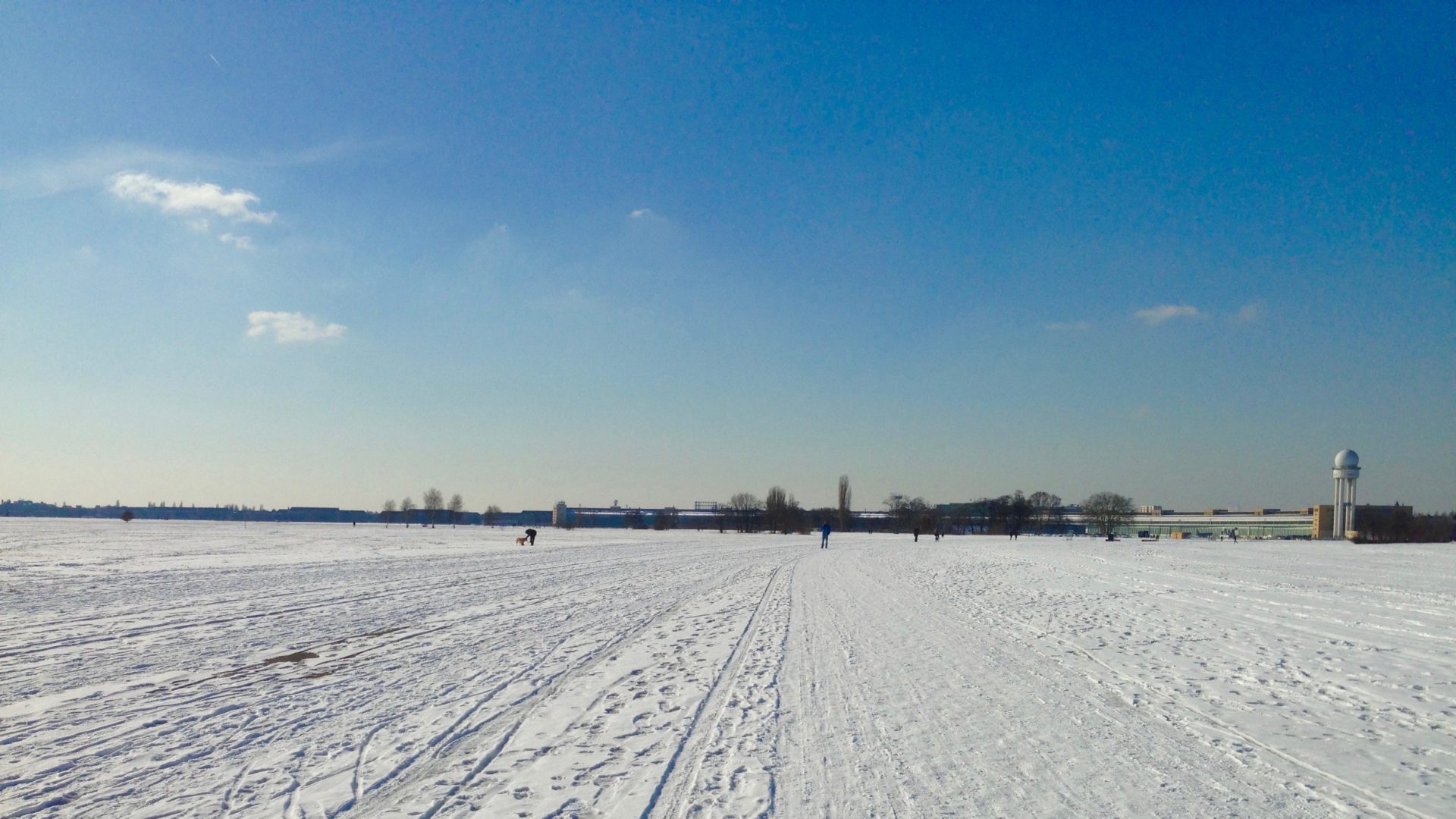 Now off to the Tempelhofer Feld. This is a disused airport, which was converted into a park after its closure. Berliners of all backgrounds meet here to exercise, meditate, picnic or take care of their vegetable garden in the Allmende Kontor. It's a beautiful place! What a rarity that one can look so far in a capital city. Enjoy and relax your eyes for a bit.
After an extensive round you best take the exit to Columbiadamm, which you only cross and immediately descend into a small street where apparently all Berliners have parked their caravans and dismantled trucks. Through this unusual housing estate you come to the Südstern, in the middle of which an impressive neo-Gothic church is enthroned. You will circumnavigate it once to reach Körtestraße, which will take you to the Landwehrkanal.
At the entrance to Böckhstraße you'll find Isabel, who produces fantastic ice cream that you can enjoy on the Admiralsbrücke next to all the other sun lovers you will meet here at any time of day. If you're lucky, someone will play music for you.
At the Planufer with its beautiful houses you finally reach the Maybachufer. Every Tuesday and Friday you will find a crazy fruit and vegetable market and on Saturday a so-called fabric market, which is becoming more and more the perfect souvenir hunting place. No matter on which day, these markets are always worthwhile because there is a lot to discover. If you are longing for another coffee: Populus Coffee is your place. Something sweet to go with it? At the Bread Factory there is a raspberry slice to die for.
Cross the Hobrechtbrücke bridge and make a small detour to the other side of the river. Only a few meters along the Landwehr Canal you reach the popular bouldering area, where you can take a break to watch people. Generally, observing people is a big part of this trip!
The Thielenbrückee brings you back to the Maybachufer, which you follow a little further south to the Weichselplatz. At the southern end of the square you'll find table tennis facilities that are always busy. Maybe you'll find a free racket for a game?
Now down the Weichselstraße until you come to the Sonnenallee. Cross it, turn right and you're standing right in front of Azzam, where you'll find the best Fatta in town. Promised. But also with all other dishes on the menu you can't do anything wrong. Especially crazy are the plates for several people. Here you get a little bit of everything, but be careful: rather invite one or two more people than those, although always in stress super friendly employees of the shop claim that the plate fills up. It's crazy much.
With a full belly you roll down the Sonnenallee to the next corner and stumble into the Fulda beverage market. This is a Späti Deluxe, here you'll find fine drinks for every taste and get your variant of a Wegbier.
Although the way to your next destination, the Klunkerkranich, is not far, but sometimes the queue is long, so you like to have something to hold on to. How do you get here? You walk along Fuldastraße in the direction of Rathaus Neukölln and are now standing in front of the Neukölln Arcaden. Here you want to go in or to be more precise: up. The elevator takes you to the top floor of the parking deck and from there you can walk up to the roof, where a pretty bar has been built. This is the perfect place to enjoy the sunset over the roofs of Berlin.
As soon as the spectacle of the setting sun is over, we head for Weserstrasse. Here you will find a bar for every taste. It is the place where I leave you to your own decision-making power, because from here there are thousands of ways and not one is wrong, I am sure you will find the right one for you.
Have fun discovering!
Where you can also have a good breakfast in Rixdorf:
The Future Breakfast
Ungeheuer
Paulinski Palm
Vux (Vegan)
Other excellent dinner alternatives around Hermannplatz:
Berlin Burger International – fantastic burgers
W Pizza – Neapolitan Pizza
Con Tho – vegetarian, regional Vietnamese cuisine
Imren Grill – really good Dürüm
La Bolognina – homemade, fresh pasta
Le Brot – Bread, cheese and wine of the finest quality